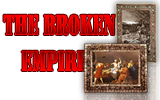 "These tapestries are beautifully-wrought depictions of the falls of civilizations. Vampires are always happy to see human civilizations fall."
Included Collection Items
Completion RewardEdit
Collection Rank
Edit
Items included in this collection are able to be closed at any Rank, however they have a chance to drop from all Quests specifically included in the following Rank :
Ad blocker interference detected!
Wikia is a free-to-use site that makes money from advertising. We have a modified experience for viewers using ad blockers

Wikia is not accessible if you've made further modifications. Remove the custom ad blocker rule(s) and the page will load as expected.